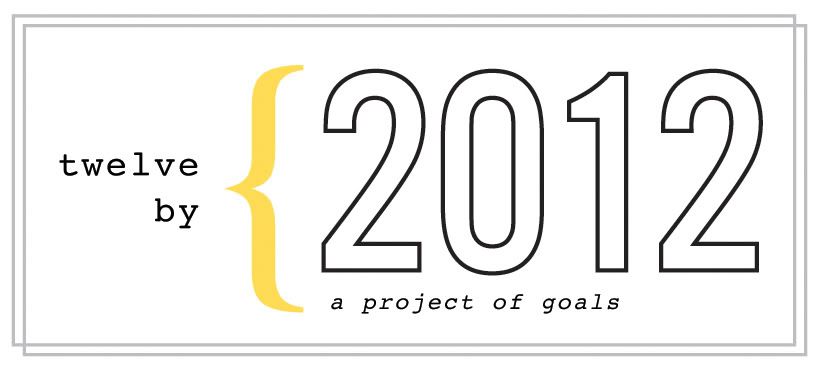 Hello Jarfly readers...you are what keeps this little blog moving and growing. Thank you so much for the support. Every last view, comment, link, and share of this blog helps SO MUCH! I just felt the need to give a quick thank you.
I'm an advid Oh, Hello Friend Blog reader. If you love design, vintage, art and fashion...I'd strongly suggest stopping by. Dani of "Hello Friend" recently posted a challenge to her readers to create a bucket list for completion by New Year. I think this is a FANTASTIC idea because it gives you enough wiggle room to really accomplish some things, and yet is a manageable amount of time. 
I'm officially participating. If YOU would like to participate make sure to visit 12 by 2012 over at "Hello Friend" to grab some great buttons for your website, blog, facebook page...or hey, if you aren't really into the computer world print one out and pin it on the fridge as a reminder and motivator.
I'm starting my list today. Over the next few months I'll be documenting via photo and art as I complete my twelve goals. I'm very interested to know what your goals are! Please share by leaving a comment below! I'd also love to see your list visually on your facebook page, blog, website or even via email...like I said leave your links for your goals as a comment below! Let's support each other and get some stuff done! Here's my list:

1. Complete all the homework from my "Blogging Your Way" Course.
2. Re-finish & paint an old card showcase stand I purchased at a garage sale.
3. Complete the line of "Fabric Art" cards I've designed.
4. Complete the stationary set I've imagined up.
5. Exercize 3-4 times a week, everyweek (arg.)
6. Paint/Design 5 more 8x10 prints for sale by Christmas.
7. Design vintage inspired labels for my husband's home brewed beer & cherry cordials.
8. Create/Launch the new "Jarfly Vintage Rentals" Website.
9. Enroll in School
10. Re-Vamp my wardrobe in whatever thrifty way possible
11. Complete 2 Holiday Christmas art shows.
12. Finish reading the stack of books by my bed and get to sleep by 10pm on weeknights.
Hooray! We are on our way...remember, share YOUR goals with me! I'd love to check them out (maybe it will inspire an "edit" of mine).